A very warm Welcome to SOCRATES !!
SOCRATES is an international, multi-disciplinary refereed and indexed scholarly journal.
This journal appears quarterly in English.
❊ Printed Version (ISSN 2347-2146): Format: Print Book
❊ On-line Version (ISSN 2347-6869): Format: Published online (PDF)
❊ Script/Language of the Journal: English
Mission:
SOCRATES aspires to be one of Worlds leading Journal Publishing innovative, responsive and high-quality Research Papers. Socrates is a serious, scholarly publication that is peer-reviewed and indexed, and we only accept quality manuscripts to publish in this international journal.Our mission behind introducing and initiating this journal is to motivate Scholars who have the willingness to Produce and publish quality research and discuss his/her original research, thoughts and ideas. We strongly believe in the concept of a connected academic world of researchers. Thus, we have indexed our journal at some of the best citation centres.
Current Status of the Journal:
❊ The Journal Socrates is relatively young yet well-known around the Globe.
❊ SOCRATES is under evaluation in Science Citation Index (SCI), ISI Web of Knowledge and Web of Science (Thomson Reuters) SOCRATES is under evaluation in SCOPUS SOCRATES is under evolution for inclusion in "The Philosopher's Index" (The Most Authoritative Online Bibliography in Philosophy).
Other Units/projects of the Journal:
Vol 3 No 1 (2015): Issue - March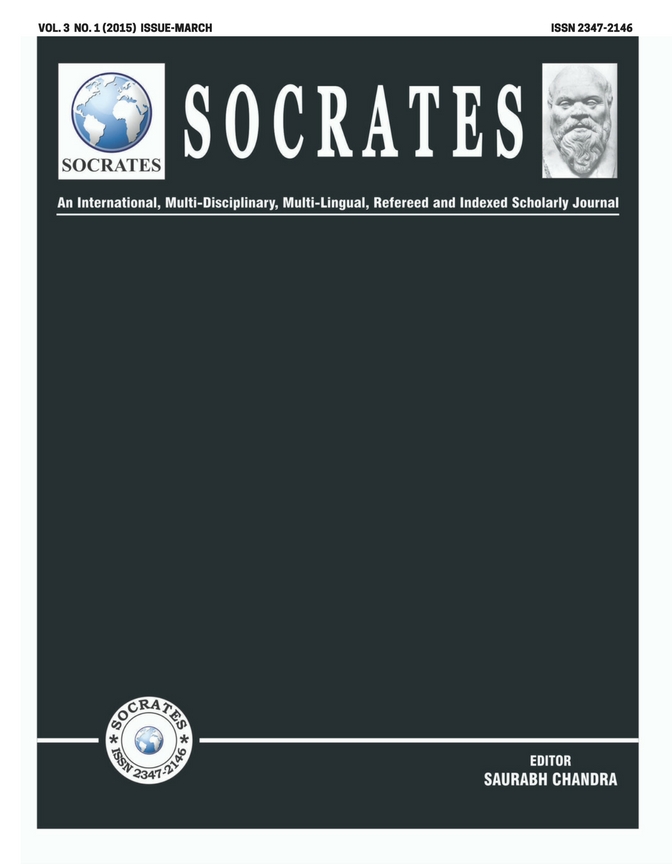 This issue of Socrates has been divided into five sections. The first section of this issue is Language & Literature- English. The first article of this section deals with Pierre Bourdieu's concept of "symbolic" or "soft" violencein Margaret Drabble's latest novel, The Pure Gold Baby (2013).The second article of this section tends to analyses Connection in Richard Ford's A Multitude of Sins. The third article of this section applies the formalistic approach to scrutinize the two poems of William Butler Yeats. The second section of this issue is Philosophy. The first article of this section analyses the epistemological limit that separates the superhero fictitious universe from our universe of causal reality. The second article of this section argues that whatever might be said about his attack on other German philosophers, Santayana's attack on Kant, despite its subtlety, its force and its intelligence, is fundamentally misguided. The third section of this issue is Economics, Commerce and Management. In the first paper of this section authors have examined how, when and to what extent Strategic Human Resource Practices affect performance at the employee level. The second article of this section explores some of the important aspects of effective mobile money and digital financial services in bringing financial inclusion. The fourth section of this issue is Politics, Law and Governance. The article in this section explores the African Union's ("AU") science and technology plan and strategy for Africa within the construct of Kwame Nkrumah's socio-political thought. The fifth section of this issue The new Book, reviews "AamNama" by renowned scholar and poet "Suhail Kakorvi".
Published: 2015-03-24
Language & Literature- English
Economics,Management and Commerce
Politics, Law and Governance
View All Issues